If you love daily fantasy sports as much as I do, you'll want to play at the best daily fantasy sites.
There's some good news and bad news here. The bad news is that there are a LOT of fantasy sites to choose from, and some are way better than others.
The good news is that I've been around the block for longer than I care to imagine when it comes to fantasy sports. I've road tested all the latest sites for 2020, and while I came across a handful of very good ones, I've slimmed things down for the purpose of this article.
In this guide, I'm going to take a look at the top 4 daily fantasy sites, including my personal top pick, DraftKings. Then, I'll explain what the best sites are for the NFL, MLB and NBA, and I'll also answer the most popular questions surrounding daily fantasy sites.
Ready? Let's make a start.
Top 5 Daily Fantasy Sites
#1 Draft Kings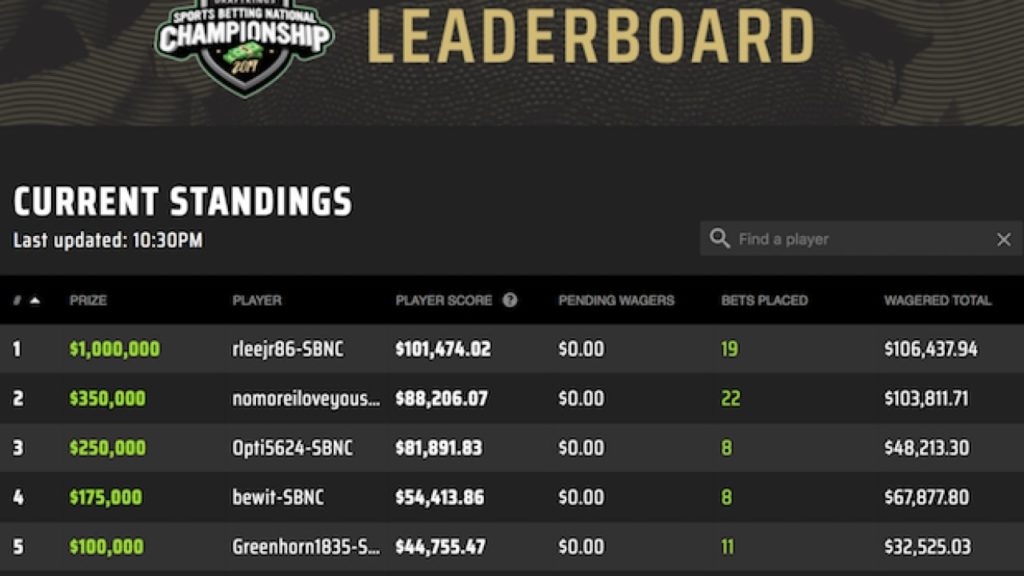 DraftKings is the biggest daily fantasy sports site that gives away billions of dollars each year. It's available to U.S. gamblers, and you can access its software on your desktop or on your mobile device.
Pros:
More sports variety than other DFS
Reputable
Huge guaranteed pool prizes
Cons:
Rewards system is a tad complex
At DraftKings, there are numerous game formats on offer. These include huge contests with massive guaranteed pool prizes. You'll also find head-to-head contests here, where you can compete against rival players for big money.
50/50 tournaments are popular here, too. And if there's a sport, DraftKing probably runs a DFS contest for it.
The most popular daily fantasy sports at DraftKings include:
NASCAR
Soccer (including European soccer)
Golf
I've had a look at the other fantasy sites, and it appears that DraftKings offer more sports variety than any other site. This makes it ideal if you're a huge sports fan who is knowledgeable in different sports and leagues. For example, when I used DraftKings, I participated in NFL, NBA, soccer and NASCAR contests.
Also, the fact that DraftKings can guarantee such huge player prize pools means it can also guarantee massive prizes. This, in turn, ensures the site keeps growing its traffic, which is ideal for you, the bettor.
#2 Fan Duel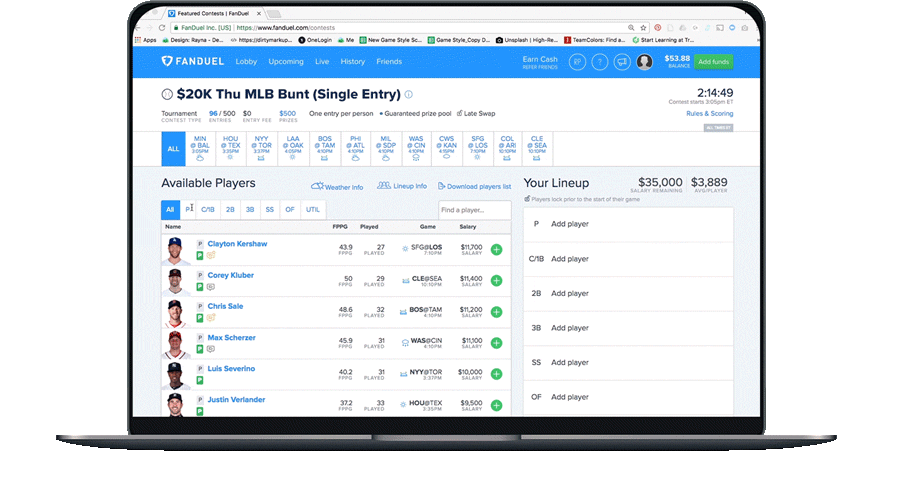 DraftKings might be the OG of daily fantasy sports sites – but FanDuel isn't far behind. In fact, with a billion dollars dished out every single year, it comes within a hair's breadth of DraftKings.
Pros:
Good sports variety
Excellent payment options
User friendly mobile app
Cons:
Not available in all U.S. states (yet)
What makes FanDuel so appealing to DFS players?
FanDuel has improved its UX immeasurably in recent years. It's adopted clean, functional software that allows it to play seamlessly either on desktop or your mobile device.
Also, the guys behind the site have made sure to add new game formats on the regular so that FanDuel is able to keep up with the Joneses.
Industry-standard guaranteed prize pools are present and correct, while contests include multipliers, 50/50s and head-to-head matches. It's worth mentioning, too, that FanDuel was the original home of things like beginner contests and single-game contests. They continue to do both very well.
Meanwhile, the fact that FanDuel offers contest-entry limits means that amateurs and new players will get a helping hand.
FanDuel doesn't cover as many sports as DraftKings, but all the main ones are here:
Soccer (limited to the English Premier League, though)
Monkey Knife Fight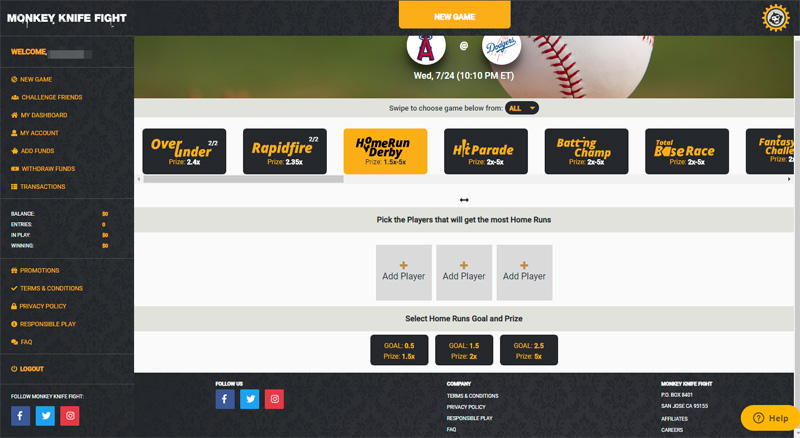 Monkey Knife Fight is one of the top daily fantasy sites that is ideal for bettors who prefer play propositions. It comes with a unique roster selection that manages to challenge your sporting knowledge, and this makes for some great contests. It's especially great for anyone who's a bit bored with traditional DFS.
Pros:
Fun, quirky brand
Lots of prop game formats
Free to get started
Cons:
Contest variety is a bit limited
What makes Monkey Knife Fight so different?
On this site, bettors must accumulate points according to a roster that they compile. The bettor is then placed in a head-to-head competition in pools of varying sizes.
That might sound a tad complex, but the great thing about Monkey Knife Fight is that some of their games are a lot simpler. Instead of getting into competition with other bettors, you can rely on the performances of real-life sportsmen. This alone is what ensures Monkey Knife Fight stands out from the other daily fantasy sites I've covered.
But while you might be thinking that this kind of thing means you don't need as much knowledge or skill in order to win, that's not quite true. Just like traditional daily fantasy sports, succeeding on Monkey Knife Fight means you'll need to be familiar with the players, the teams, the form, the matchups and even the weather.
Other than that, Monkey Knife Fight has a functional website that performs well on desktop and mobile, while all the most popular sports are covered, including:
Fantasy Draft

Fantasy Draft has been in operation since 2014. It was created to compete with the two heavyweights in the DFS arena – DraftKings and FanDuel – and it's a testament to how good it is that it's survived much longer than other sites that have crashed and burned in the intervening years.
Pros:
Good reputation
Lots of banking options
Referral program is excellent for when you want your buddies to signup
Cons:
Playing at Fantasy Draft is simple enough. You just need to register an account, grab the welcome bonus, find a contest that appeals to you the most – and start building your team.
DFS contests are going on all the time, and many sports covered including all the big American ones – NHL, PGA, NBA, MLB and NFL. Sports variety isn't as comprehensive as it is at DraftKings or FanDuel, but this is still an ambitious and innovative site that has an impressive array of choices.
Here's what you get:
Contest types include head-to-head, 50/50, multiplier, GPP, qualifiers, and any current promotion that happen to be running. Contests vary in size according to the entry fee and the amount of players, but huge cash prizes are always guaranteed for the teams that perform the best.
However, not all games are cash games. Cash games at Fantasy Draft are the head-to-head games, multipliers and 50/50 tournaments.
Daily Fantasy Sites FAQ: Your Questions Answered
What Is The Best Site For NFL Fantasy?
FanDuel is the best site for NFL fantasy leagues. The best thing about FanDuel for NFL fans is that you don't have to commit to a whole season. Personally, this really suited me. Instead, you can sign up for weekly leagues. Some have a buy-in fee and offer cash prizes, while others are completely free.
The signup process is super easy, site navigation is good, and both the experienced and casual fantasy player should enjoy FanDuel.
What Is The Best Site For MLB Fantasy?
Yahoo! Sports is the best site for MLB fantasy. It was actually one of the first MLB fantasy sites ever created. They're absolute pioneers in this field and don't get enough of a mention (in my opinion).
Because they were one of the first, they're ahead of the pack when it comes to the customer experience. As an MLB fantasy site, Yahoo! Sports offer comprehensive and up-to-date player stats and daily news. As you'd expect, the site is simple enough to navigate.
A minor niggle with some players might be that, while you don't have to pay a fee to start a league, you do have to pay for things like draft kits and scouting features.
What Is The Best Site For NBA Fantasy?
Monkey Knife Fight is the clear favourite here. As I mentioned earlier, Monkey Knife Fight likes to do things a bit differently to the "Big 2" when it comes to DFS. And when it comes to NBA fantasy, it really stands out.
Why?
One of the reasons is that Monkey Knife Fight offers numerous contest types at different buy-in points. But the catch is that the principles remain the same. And because of the way Monkey Knife Fight works, it's perfectly suited to NBA fantasy.
How so? Because each player starts out with two-player games before increasing their number of choices. Once they've tried them all out, they can then pick the one that works best for them. Some will succeed with four options, others will prefer to stick with 2 or 3. For NBA fantasy, this flexibility works really well.
What Is The Best App For Daily Fantasy Sports?
DraftKings is the best app for daily fantasy sports. It gives you the chance to win real cash on their easy-to-install and navigate app. They offer more sports variety than any other DFS app, they've been around since 2011, and they give away billions worth of cash prizes each year.
The app is safe and secure, it's available in most U.S. states, and to get up and running all you need to do is create an account, enter the contest lobby and take your pick from the huge array of options that are on offer.
Contest types include a guaranteed prize pool, leagues, 50/50, head-to-head and qualifiers.
Also, when you first create an account and make a deposit using the app, you'll qualify for a "double your money" welcome bonus.
Are Daily Fantasy Sports Websites Legal In The U.S.?
Daily fantasy sports have been around in the U.S., when the industry said that it was a skill – as opposed to gambling. The lawmakers let it go and it largely remained the hobby of a few thousand people.
Then, in 2015, it surged in popularity when both FanDuel and DraftKings started to advertise their sites on national television.
The U.S. then deemed daily fantasy sports illegal. After some hardcore lobbying from the DFS, it was eventually legalised in 20 states.
As things stand right now, DFS sites are legal in all states except Arizona, Washington and Montana.
Is Daily Fantasy Sports Considered Sports Betting?
Yes and no.
Most DFS sites are technically not sports betting sites, but Monkey Knife Fight (as I pointed out earlier) comes really close, due to its format.
However, there are some bettors who will say that DFS is just the same as sports betting, and some who will say it isn't. The line taken by the websites at the moment is that daily fantasy sports isn't the same as sports betting.
Can You Use The Best Daily Fantasy Sports Website Outside Of The United States?
At the moment, DraftKings is available in the legalised U.S. states, as well as Canada and the UK.
FanDuel, Fantasy Drafts and Monkey Knife Fight all have restrictions that forbid you from using their sites and apps unless you're physically located in the U.S.
Other sites, such as Yahoo! Sports are available to play outside the U.S., but most of the best ones aren't.
What Is The Most Popular Daily Fantasy Sport?
Daily football fantasy leagues – both the NFL and, to a lesser extent, college football – is the most popular daily fantasy sport. It has been for years, although baseball runs it close.
How Do Deposits and Withdrawals Work On These Sites?
Depositing on a DFS site is really easy, and the process is a lot like a sports betting site. The only difference is that, when you first create your account, there's no pressure on you to make your first deposit. This is because the best DFS sites let you play a few contests for free.
When it comes time to make your deposit, you just need to head over to the "banking" section, select "deposit" and choose your payment method. These payment methods typically include credit and debit cards, as well as eWallets like PayPal. Deposits are made instantly.
There's usually a $5 minimum deposit, and the best sites offer welcome bonuses.
Withdrawal is just as easy – you just need to go to your banking section, click "withdrawal" and choose your method. Withdrawals typically take between 2-7 days to process.
Final Word: Best DFS Overall
For DFS players, DraftKings is the resounding top one. It has more sports, leagues and contests than the other sites, as well as bigger prize pools and it has the added bonus of having a better reputation.
That said, as far as fantasy sports sites go, FanDuel and Monkey Knife Fight are still two very good choices with their sports variety, contests and good user experience.
Which DFS you got for, I wish you the very best of luck. And don't forget to let me know in the comments below how you get on!